"An art park is a hybrid: a merger of art and landscape," Francesca Cigola writes in Art Parks: A Tour of America's Sculpture Parks and Gardens, her book from Princeton Architectural Press. The boundary between art and its environment has increasingly blurred with the proliferation of sculpture gardens, outdoor collections, and public spaces devoted to permanent art installations and exhibitions. Of the 50-plus parks Cigola tours, many are right here in New York or can be easily reached by car or train, making for a few easy summer escapes from the city to take in art outdoors.  
1. STORM KING ART CENTER, MOUNTAINVILLE, NY
This 500-acre Hudson River Valley expanse boasts over 120 sculptures in an open-air plan. The park hosts exquisite site-specific works, from a wave field installed by Maya Lin to Richard Serra's buried steel plates at the grounds' border. The center also features works by Sol LeWitt, Daniel Buren, and Donald Judd. Open Wednesday through Sunday, with tickets for purchase, the center is about an hour outside New York City by car or bus service. "The variety of works, the unexpected scale of the sculptures in relation to the land, and the surprising beauty of the countryside make Storm King one of the country's most elegant sculpture parks," Cigola writes. A good example: last summer the visitor's center—and even some artworks—was covered in a veil of cicadas.
2. SOCRATES SCULPTURE PARK, LONG ISLAND CITY, NY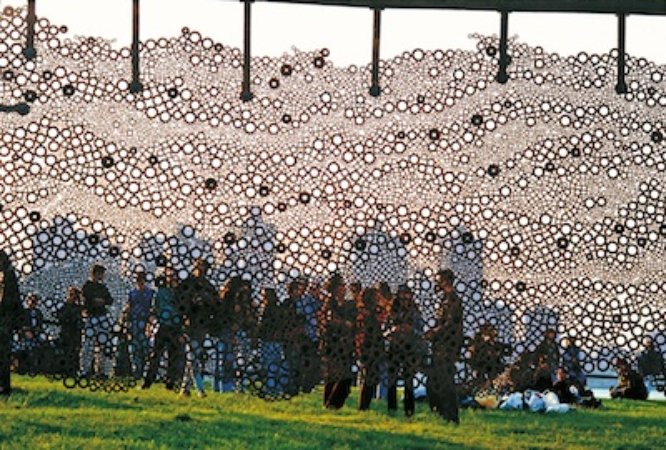 Alissa Neglia, Lace (from the exhibition "Escape Velocity" at Socrates Sculpture Park), 1998
For those who don't want to venture too far afield—or pay up—the Socrates Sculpture Park offers alternative approaches to sculpture in decidedly alternative surroundings. Founded by the artist Mark Di Suvero in 1986, the park reclaimed an abandoned industrial site as a community stronghold for arts and culture. In the park's first few years, Keith Haring and George Segal exhibited there; since then it has featured work by such contemporary heavyweights as John Baldessari, Tracey Emin, Ernesto Neto, and Christian Marclay. Currently on view, through August 3, are a pair of monumental sculptures by Pavel Althamer and Zilvinas Kempinas.
3. IRIS AND B. GERALD CANTOR ROOF GARDEN, METROPOLITAN MUSEUM OF ART, NEW YORK, NY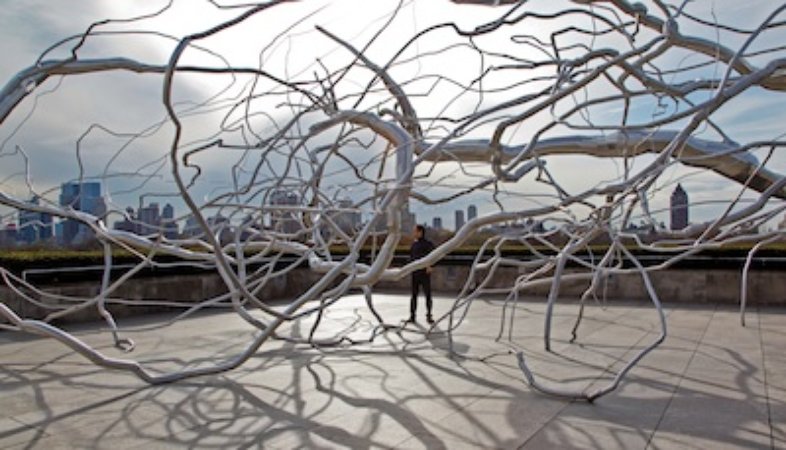 Roxy Paine's "Maelstrom" on the Metropolitan Roof Garden in 2009.
While not exactly a traditional park, the Met's roof holds summertime exhibitions that give new definition to the cityscape while offering welcome outdoor respite from the throngs of tourists inside. This year, Dan Graham has installed one of his signature architectural sculptures in the space (he discusses it in an interview here); last summer, Imran Qureshi's site-specific installation used the nearly 8,000 square feet of terrace space as commentary on recent global violence while also conjuring floral forms that call back to Mughal court miniatures—as well as the nearby Central Park. The museum has commisioned works each summer since 1998: past exhibitions in recent years have included Roxy Paine's Maelstrom and Cloud City by Tomás Saraceno. 
4. KYKUIT GARDENS, THE ROCKEFELLER ESTATE, TARRYTOWN, NY
John D. Rockefeller's original six-story mansion became home to his family for generations, as well as to an extensive sculpture collection installed throughout the fabled terraced gardens. The grounds hold famed pieces of 20th-century sculptures by pioneers of the medium such as Picasso, Henry Moore, David Smith, and Louise Nevelson. Today, visitors can book tours of the home and gardens in advance through the estate, which is located about an hour outside the city via Metro North to Tarrytown.
5. GROUNDS FOR SCULPTURE, HAMILTON, NJ
With about 250 sculptures, this former fairground has been transformed into a 40-acre outdoor museum. Since its founding in 1991, the collection has grown to include works by Tom Otterness, Kiki Smith, and Robert Mangold. The park is about 75 minutes by New Jersey Transit from New York Penn Station to Trenton. "This purposefully informal setting... is markedly different from the more rigid atmosphere of a traditional museum," Cigola writes. In an art-historical nod, the park has installed a "Monet Bridge" over a pond, inspired by the artist's water lily paintings. For summer, hours extend until 10 p.m. instead of 6 p.m., and entry until 9 p.m. comes with a half-price admission.